Aft Deck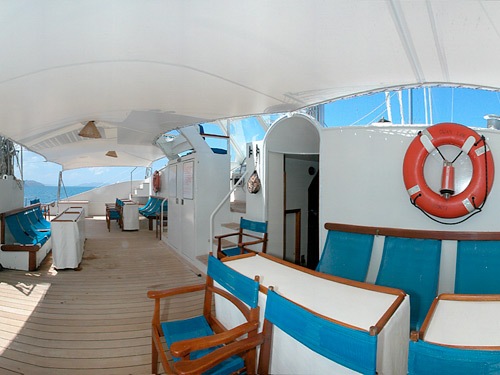 At the back of the saloon two doors exit to the comfortable teak aft deck, covered by a permanently rigged awning. This area serves as both an activities deck and dining terrace, an arrangement that is quite convenient. The clever design of the tables and chairs allows the system to work.
During the day you'll gather here for briefings and preparation for activities. Its also a nice shady place to just relax.
At meal time the aft deck makes a marvelous conversion to a smart "oceanfront restaurant". In a matter of a few minutes, the crew removes the protective covers from the small day tables, and by swinging up the hinged leaves beautiful varnished hardwood dining tables are revealed. Delicious, colorful buffets are set up for breakfast and lunch. Add the fine china and crystal, soft lighting, island breezes and an ever-changing ocean view and you've got the perfect setting for a full service dinner.
---